Unstable and uncontrolled processes account for most financial drains in the injection molding process. Between 60 and 70% of all molding errors can be traced back to the tempering of the injection mold, with these being responsible for unacceptably long cycle times and inadequate quality.
Employing a combination of compact Optris infrared cameras and an IR-ThermoControl online quality control system (explicitly developed for plastics processing Plexpert GmbH and GTT Willi Steinko GmbH) ensures that thermal errors occurring in the injection molding process may be detected at source or "inline".

Data transfer to IR-ThermoControl is made possible thanks to the PI Connect software. This central element allows the process technician, fitter, and quality leader to manufacture quality components in a safe, rapid, and target-oriented fashion while ensuring the shortest possible cycle times.
If targeted measures are to be taken effectively, it is essential to be aware of where the causes of problems tend to be found.
Common Thermal Problems and Their Causes
Appearance
Thermal problem classification
Most common cause
Dimensional problems, poor mechanical performance
Excessive temperature deviations in the mold wall
Asymmetrical cooling channel layout, insufficient heat dissipation, bridging of cooling channels
Molding warpage
Excessive temperature deviations in the mold wall, partially or over the entire molding
Asymmetrical cooling channel layout, insufficient heat dissipation, bridging of cooling channels
Surface markings in the form of shiny and matt patches, feathering
Thermal moldings of inserts and ejector pins, mandrels, retainers, ribbing and apertures
Insufficient heat dissipation, inadequate isolation of hot runner systems and hot runner nozzles, untempered molding lots
Excessively long cooling times/cycle
times
Poorly configured tool tempering, significant pressure losses within the tempering system, hotspots on the molding
Blocked cooling channels, the inadequate technical condition of tempering and cooling equipment, aggressive condition of water, untreated or insufficiently treated water
The IR-ThermoControl system provides information on potential problems, even showing intermittent effects and trends such as a slight temperature increase occurring during serial production. This system is easy to install on any injection molding machine and can be fitted in under 5 minutes, allowing for unmatched availability and flexibility.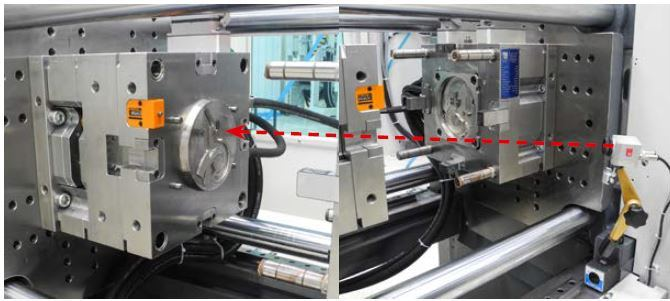 Positioning the infrared camera in the tool installing area.
The user guidance is process-oriented, allowing control limits to be defined and automatically providing information on temperature deviations via a reference image system. This approach allows for any differences that occur to be seen instantly.
Initially, the IR-ThermoControl quality module generates an image of the molding in…


Read more:: Injection Molding in Industry 4.0